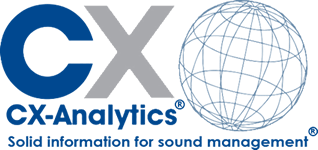 CX-Analytics, LLC is a successful software developer offering professional services that focus within the financial services industry and, specifically, the financial services business sector. CX-Analytics specializes in empowering financial services clients to obtain higher levels of business intelligence.
We deliver this capability through a unique combination of experience, products and services.

Industry
Experience
Our staff brings decades of experience and a track record of success in the cards and loans industry. CX Analytics' founder, Keith Coulter, is a recognized expert and innovator in the field of analytics for financial services.
Business
Intelligence Application
CX Account Level Profit is a ground breaking product which can accelerate the profitability of a card or loan portfolio. Management Analytics deliver comprehensive management reports for your operation. Our products and services cover the entire range of analytic components required to deliver true Business Intelligence.

Strategy and Operational
Process Reviews
Our decades of experience running financial services organizations provides unprecedented insight to evaluate your strategies and operational processes across the entire value chain, including:
Underwriting | Risk | Fraud | Collections | Customer Service | Account Management
Analytic Center
of Excellence
Our Analytic Domain Services will document, augment, reconcile and standardize your analytic data warehouse to ensure a Single Version of the Truth and eliminate regulatory compliance issues. CX-Analytics can deliver an Analytic Center of Excellence, including data, tools, operating model, organization design and business strategies.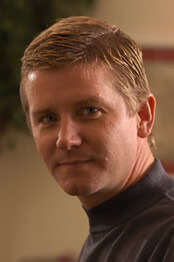 Keith Coulter is the founder and CEO of CX-Analytics. He is a recognized leader in the credit card and consumer financial services industry with a long track record of breakthrough innovation and business performance. His experience spans more than twenty years across the US, United Kingdom, and Asia. Mr. Coulter has shaped his career around the innovation of new analytical systems as well as recruiting world-class leadership teams to drive performance within each organization he led.
Mr. Coulter leveraged his vast industry expertise and visionary leadership to launch CX-Analytics, a firm specializing in strategic consulting, interim management, new business start-up, data analytics, and profit optimization solutions for consumer financial services and credit card firms. He has built an international client base through his groundbreaking analytics software for profitability management (CX-Account Level Profit), collections strategy optimization (Management Analytics for Collections), and account-level profit forecasting (CX-Profit Forecasting Model). Clients have included Vanquis Bank (UK), The Cooperative Financial Services (UK), Dell Financial Services, (USA), John Deere Financial Services (USA), First Hawaiian Bank (USA), Total Systems Services (TSYS, USA), Standard Chartered Bank (Singapore), Nationwide Building Society (UK), Nissan Financial Services (USA), ABN AMRO (Netherlands), General Electric Capital (Czech), CGI (USA), Lendable (UK), PCF Bank (UK), and NewDay (UK).
Mr. Coulter's professional experience began with Citibank in New York where he designed and built profit forecasting models for the US bankcard group. From there, he has held senior and executive positions in the USA with First Chicago (now JPMorgan Chase), The Associates (now part of Citigroup), Tandy Corporation (Radio Shack), and AmeriCredit (now part of GM). His work in the UK began as Director of Customer Value Management for Barclaycard, the largest card portfolio in Europe at the time, where he led the commercial side of the business including marketing, risk management, and analytics. Later he served as Chief Operating Officer of Barclaycard and was then promoted to Managing Director of all consumer cards and consumer lending in the UK for Barclays Bank. Most recently, Mr. Coulter was on the Executive Committee and led the credit card business and technology for Vanquis Bank in the UK. He previously serviced on the Board of Visa UK.
Mr. Coulter's notable accomplishments and experience include:
Led turnaround in growth and profitability at Vanquis Bank with an 18+% increase in PBT and doubling new customer acquisitions.
Senior regulatory engagement in UK, USA, and Taiwan. Led FCA operational engagement and strategy to address customer outcomes, Persistent Debt, Affordability, and GDPR compliance for Vanquis Bank.
Led transformation of Barclaycard UK to a data-driven, customer-focused business model, resulting in the number one new customer share, record profits, and growth.
Developed industry-first products and offers in the UK including "Low-Rate, No-Rate", Barclaycard Flexirate and Barclaycard Initial, Vanquis Chrome Visa, and Vanquis Progress Visa. Selected as New Credit Card Product of the Year in the UK on two occasions.
Introduced breakthrough, award-winning data analytic capability to Barclays, Vanquis, and Associates. Received SAS Institute European Leadership Award for innovation. Recognized by SAS, FICO, and Experian as innovation and thought leader. Case studies referenced in Competing on Analytics by Thomas Davenport and in SAS.com magazine.
Led the international card expansion strategy of a global company to start a new card business in Taiwan, securing regulatory approval in record time, purchasing assets of a failed lender, and achieving profitability within two years.
Recognized expertise in credit card profitability management across prime and non-prime portfolios. World-class results in risk-adjusted margin management through the cycle.
Consumer-focused executive and champion of team members: Recognized by Barclays CEO for driving the highest improvement in staff satisfaction while COO of Barclaycard. Required all senior staff to directly engage with customers and trained to be qualified customer service agent.
Designed leading analytics software for profitability management (CX-Account Level Profit), collections strategy optimization (Management Analytics for Collections), and account-level profit forecasting (CX-Profit Forecasting Model).
P&L Management: Record growth and profitability results at Barclays, Vanquis, and Associates while under Mr. Coulter's leadership.
Mr. Coulter is a graduate of Princeton University with a B.S. in Engineering and the University of Chicago Graduate School of Business with an M.B.A. in Finance. He is a dual citizen and resident of the USA and United Kingdom.